Respect goes both ways.  And eventually out into the world.
I had the pleasure of meeting William Ury at the signing for this episode's featured book 'Getting To Yes With Yourself'.  This book is a self-awareness primer that can serve you from boardroom to bedroom, and every other relationship-rich venue in between.
I could immediately see why he's been so successful at negotiating everything from boardroom battles to civil wars.  William exudes the air of someone who genuinely cares and wants to find a solution that works for and respects all parties.
In this episode of the Executive Book Club podcast, I share key excerpts from the 5th of William's 6-step Inner Yes method that forms the backbone of 'Getting To Yes With Yourself'.  The 5th step is all about respect, what it means in the context of a difficult negotiation. conflict or conversation, and how to embody it in your own life.
What I love about this book is the breadth of stories that William shares.  In the same chapter, he can talk about the beautiful lessons that fatherhood has taught him, then switch to an equally-relevant anecdote from the highest levels of a government under siege.  It just goes to show you how universal the ideas of self-awareness and self-leadership are.  (And it proves that William is my kindred-spirit-and-perhaps-long-lost-uncle 🙂 )
Enjoy listening to this one!
Podcast: Play in new window | Download
Here's the Huffington Post opinion piece I mentioned in this episode: Stop Poking the Bear. Je Suis Global Citizen.
If you have favorite books or authors you'd like to hear about on the show, especially if you've been meaning to read that certain book and just haven't gotten around to it, then let me know right here.

Get peaceful now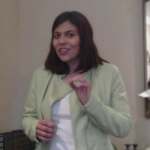 Join our Inner Peace Project via a special listeners-only 10-day trial.
Till next time, remember to live well and lead large.
Be Smart AND Soulful
Enjoyed this episode? Get free show updates and a 6-part email course for global leaders.