Talent management stumps everyone. Even the big boys.
George Anders' book 'The Rare Find' has been sitting on my bookshelf for at least 2 years.  I was intrigued by the premise of the book, and knew it would come in handy someday.  Glad that day finally arrived 🙂
Through his writing, I enjoyed learning how we can self-sabotage when making hiring decisions.  As much as we want to believe that we can be 100% rational in our hiring policies, when it comes down to the wire, we can often be swayed by our emotions (and not necessarily in a productive way) when making that final crucial decision.
In this episode, I talk about how that emotional bias creeps into our decision making, and what we can do to address it.
A lot of what George writes about can be termed 'common sense'.  But, as a family friend likes to say, common sense is rarely common.  The well-researched and well-told stories in the book are great reminders of how to ignite that common sense.
Be sure to try out the simple exercise I outline at the end of the show.  Just taking that moment to practice this exercise could save you the downstream grief of an impulsive hiring decision.
Podcast: Play in new window | Download
If you have favorite books or authors you'd like to hear about on the show, especially if you've been meaning to read that certain book and just haven't gotten around to it, then let me know right here.

Get peaceful now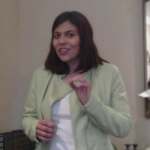 Join our Inner Peace Project via a special listeners-only 10-day trial.
Till next time, remember to live well and lead large.
Be Smart AND Soulful
Enjoyed this episode? Get free show updates and a 6-part email course for global leaders.