Your child-rearing impacts your business leadership.
The days of testosterone-only ways of leading are fading, and fading faster than many of us would like.  What are we supposed to do, to fill in the gap that's being created by the desire for more collaborative and inclusive leadership behavior?  What training ground can we turn to, to become more open-minded and openhearted as a leader?
The answer lies close to home.  Very close to home.  In this episode of the Executive Book Club Podcast, I read & review The Conscious Parent by Shefali Tsabary.  Besides its obvious application to home and child-rearing, I talk about how it can help us tune into our employees and coworkers in a way that makes them feel more heard and respected.
Be sure to listen all the way through.  I think I share a total of 4 real-life stories to illustrate the pros and cons of the way we may be parenting and leading right now.  And I end with a timely exercise that you can use during this year-end holiday season (when I first released this episode).
Podcast: Play in new window | Download
If you have favorite books or authors you'd like to hear about on the show, especially if you've been meaning to read that certain book and just haven't gotten around to it, then let me know right here.

Get peaceful now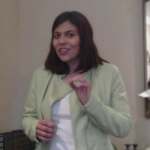 Join our Inner Peace Project via a special listeners-only 10-day trial.
Till next time, remember to live well and lead large.
Be Smart AND Soulful
Enjoyed this episode? Get free show updates and a 6-part email course for global leaders.