About The Show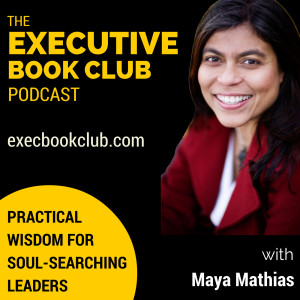 Hosted by Maya Mathias, The Executive Book Club podcast is a meeting place for curious minds and battle-weary souls. Maya helps executives, business owners and non-profit leaders tap into the insights of leaders and critical thinkers who have come before us, and shares ways to integrate their practical wisdom, accelerate the soul-searching process and access a state of inner peace amidst the stresses and strains of executive life.
Each episode of the Executive Book Club podcast explores a theme or thought from a book on leadership. Don't expect to see only the bestsellers here – Maya enjoys discovering and reflecting on lesser-known works that have important things to reveal to us.  Tune in as Maya shares work or life strategies to help you benefit from both the written knowledge of the ages and modern-day leadership superstars.
About Your Host
Hi there!  I'm Maya, your strategic advisor, heart whisperer and soul guide.
I help my consulting, training & coaching clients lead with the strategic mind of a scientist, the resilient heart of a warrior and the inventive soul of an artist.
Read more about my work on my company website.
Through working with me, individuals and organizations in flux learn how to thrive in an interconnected world.
Have you ever wondered how you can nimbly optimize your leadership approach for each context, encounter & challenge? The accelerating pace of change is turning traditional leadership frameworks on their head. Although I reference and revere the leadership models & systems of old, changing times call for a much more fluid and organic way to lead.
I blend theory & practice from personal leadership, timeless Eastern wisdom, innovation management, theatrical improvisation, communication in a social age and 21st-Century work culture. Leaders are equal parts born and made, and I have decoded the 'made' part of the equation so you can learn how to lead your life or your team with more joyful spontaneity and calm conviction.
I wrote the critically-acclaimed 'How To Innovate: Unleash Your InnoMojo', a simple and powerful book that gets your team communicating and innovating for business growth and success. During my 15-year career as a corporate employee, I specialized in hyper-growth and ever-changing industries like advertising and high-technology, working with colleagues and clients on 3 continents (Europe, Asia and the US). I have worked with and for Ogilvy & Mather, IBM, HP, Microsoft, Polycom, Cisco, Singapore Airlines and Intercontinental Hotels Group, taking their mission-critical projects from the brainstorming whiteboard to sustained multi-million dollar marketplace success.
I have a B.Sc. (Honors) in Biology, an MBA (with a specialty in Information & Knowledge Management) and am certified by the Institute of Professional Excellence in Coaching (iPEC), America's #1 coach training school.  Love reading resumes?  Check out my LinkedIn profile page.
I divide my time between the San Francisco Bay Area and Singapore. My inspiration comes from the performing arts, libraries, mother nature and my loved ones.